Dutch artist Chantal van Leeuwen was immersed in the world of art from her earliest childhood.
Her father an artist, while her mother is a stylist.
They often took her to art exhibitions in The Netherlands and in Paris and other areas of France when she was young.
She always showed an extraordinary interest in the artistic world.


She studied textile, fashion and interior design, where model drawing and compositions were a focal point.
"After my creative studies, I took lessons in drawing, abstraction and mixed techniques by different artists.
And I studied 17th-century painting techniques for three years."


Chantal worked for twenty years as an interior designer, counting fashion labels, real estate companies and design studios
as clients with her own company Osmosis Interior. She even worked on a Dutch Television program.
Now living in the Algarve, she is focusing on her artwork, which has all been inspired by her past life experiences.






"Emotions play an important role in my paintings.
A subject that inspires me is the contemporary (end)-time in which we live, that define our society.
Identity 'awakening in time and memory', the undergoing transformations.
A journey to an inner mature conscionsness. The change process takes place in everyone's inner world"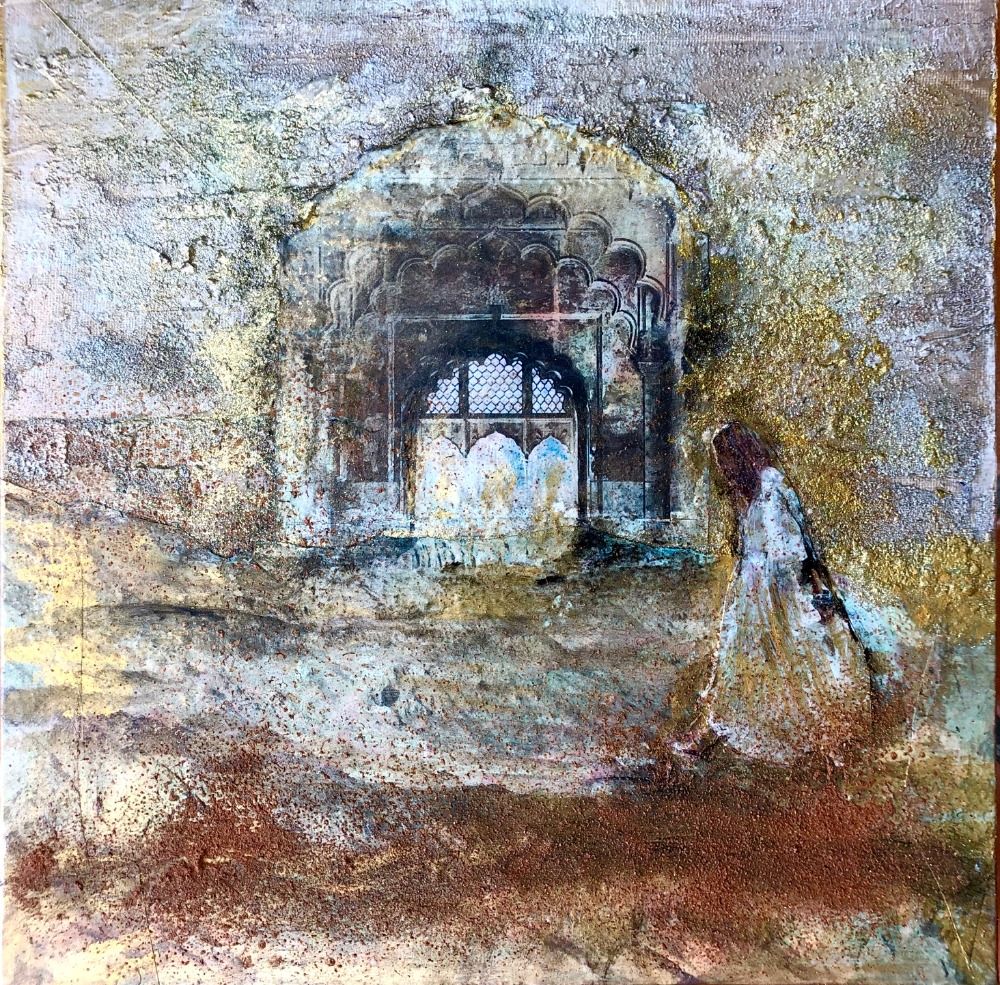 "Once on my way to one of the cliffs, I found four antique cabinet doors.
I sanded them down and started to draw and paint with charcoal and white paint.
The antique structure of the wood provided a beautiful base. It became a new collection of paintings"



In other artworks, Chantal focuses on expressions and movement in human bodies,
having completed teacher training at the Body and Mind Language Institute in The Netherlands.
"The Body says what words cannot.
It can bring us into contact with parts of ourselves that we have concealed and blocked."



In her series of sketches and paintings, called 'Body & Mind Language', Chantal represents the process of the expressions of the body
on paper and canvas. Either by using an array of colours or by limiting her work to brown or grey lines, she manages to capture movements.
Chantal seeks to find the balance between sensation and emotion, which is the challenge of her art.


Her work was exhibited in Luxembourg and she exhibits regurarly in The Netherlands and Portugal.
For information about my work and exhibitions, please contact me This email address is being protected from spambots. You need JavaScript enabled to view it.

Exhibitions 2023


ART EXPO ALGARVE - PORTIMAO, PORTUGAL
Located within the 17 acres of Parque de Feiras e Exposições de Portimão (Fair and Exhibits Park of Portimão),
overlooking the Arade River and in the heart of one of the most dynamic areas of the Algarve, Portimão Arena is in a privileged location.
February 10 - 12 - 2023
ART EXPO ALGARVE - PORTIMAO, PORTUGAL
Located within the 17 acres of Parque de Feiras e Exposições de Portimão (Fair and Exhibits Park of Portimão),
overlooking the Arade River and in the heart of one of the most dynamic areas of the Algarve, Portimão Arena is in a privileged location.
September 22 - 24 - 2023


Centro Vila do Bispo (Centro de Interpretacao)
Solo Exhibition. Located in the Centre of Vila do Bispo in the Algarve of Portugal
September 12 - October 20 - 2023

Exhibitions 2022

The Lux Gallery - Diversity
Centro Cultural Gil Vicentina
Rua Dom Joao III - 2330-135 Sardoal, Portugal
July 5th - 31st -2022


Luz Cultura
Rua da Praia 23B
8600-156 Praia da Luz, Portugal
Augustus, September, October - 2022


5 Entidos Carvalhal (Restaurant) COMPORTA, PORTUGAL
Av. 18 Decembro nr. 45A
7570-779 Alcacer do Sal (Comporta), Portugal
October 11th - November 15th - 2022


SIAC 6 da GUARDA, PORTUGAL
Simpósio Internacional de Arte Contemporanea da Cidade da Guarda
3th - 13th de Novembro 2022