'Ocean Currents, the Movements of the Atlantic Ocean'
A serie of Artpieces inspired by the Ocean Currents, the Movements of the Atlantic Ocean.

Ocean currents are continuous movements of the ocean water, caused in large part by the energy of the sun. These flows are a complex and variable phenomenon. The currents, which are called the 'Conveyor belt of the Ocean'. The dynamics behind the Gulf Stream system.

Mixed Media, Acryllic, Line Seed Oil and Gold Leaves
Size 155 x 90 cm
SOLD


The weakening of the currents is caused by a number of factors that can be linked to global warming due to the greenhouse effect.

The Gulf Stream system is powered by the differences in the density - the density - of the ocean water: as the warm and therefore lighter water travels from the south to the north, it becomes colder and therefore denser and heavier - causing it to sink to the deeper layers of the ocean, and at that great depth flows back to the south.

"But due to global warming, the increased precipitation and also the melting water from the sea ice at the Arctic and from the Greenland ice sheet is diluting the water in the north Atlantic, making the water less salty. Less salt water is less dense and therefore less heavy, making it more difficult for the water to sink from the surface to the depths".

The painting shows the process of the Ocean currents mixed with details of fish and fish skins.
Artpiece named: 'Ocean Currents, the Movements of the Atlantic Ocean' - 1
Mixed Media, Acryllic, Line Seed Oil and Gold Leaves
Size: 155 x 90 cm - This Artpiece can be presented horizontally and vertically
Price on request
Artist: Chantal van Leeuwen
Please email This email address is being protected from spambots. You need JavaScript enabled to view it. to book an appointment to view available works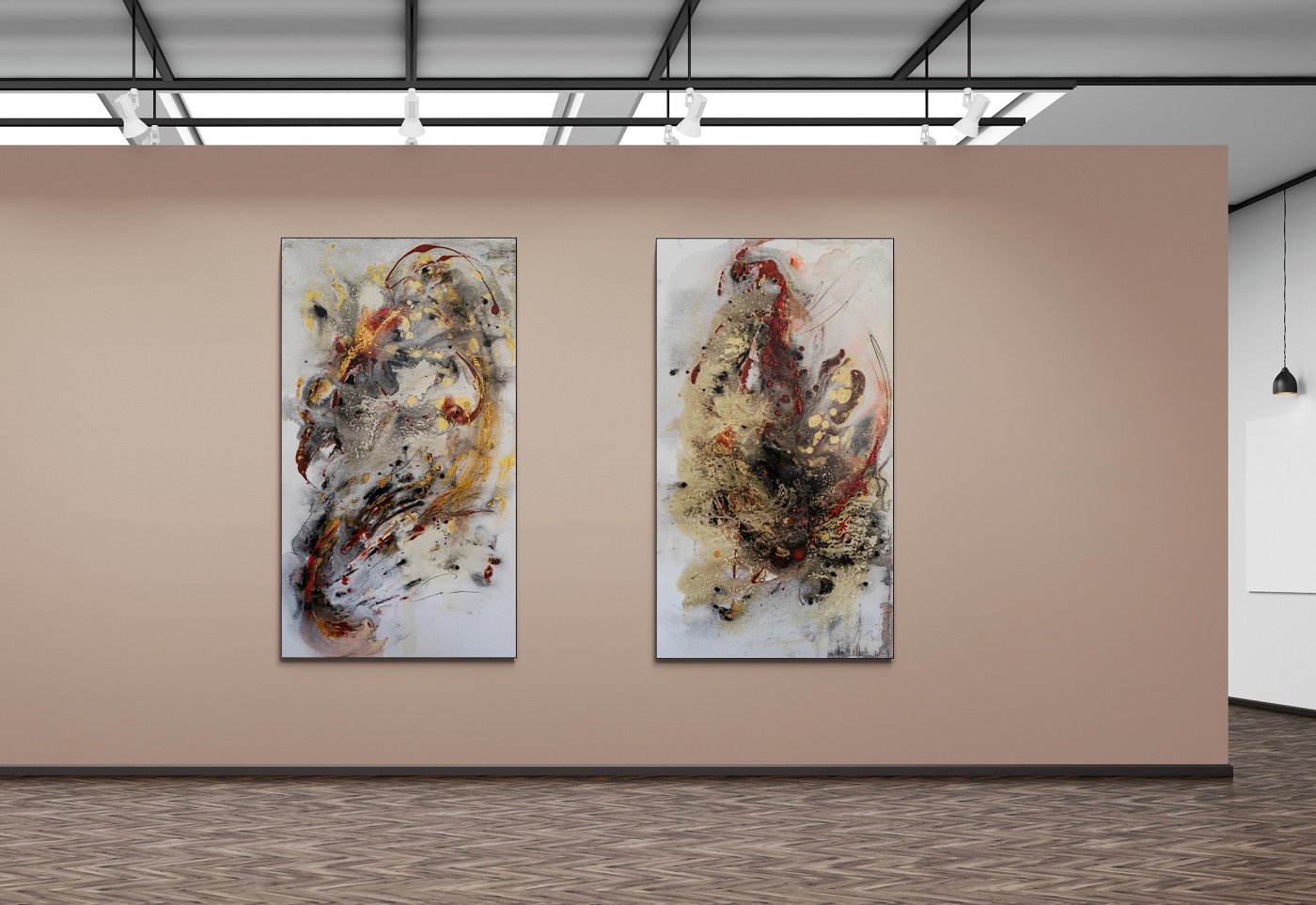 A serie of Artpieces inspired by the Ocean Currents, the Movements of the Atlantic Ocean

'Left Artpiece named: Ocean Currents, the Movements of the Atlantic Ocean - 2 ~ SOLD
'Right Artpiece named: Ocean Currents, the Movements of the Atlantic Ocean - 1